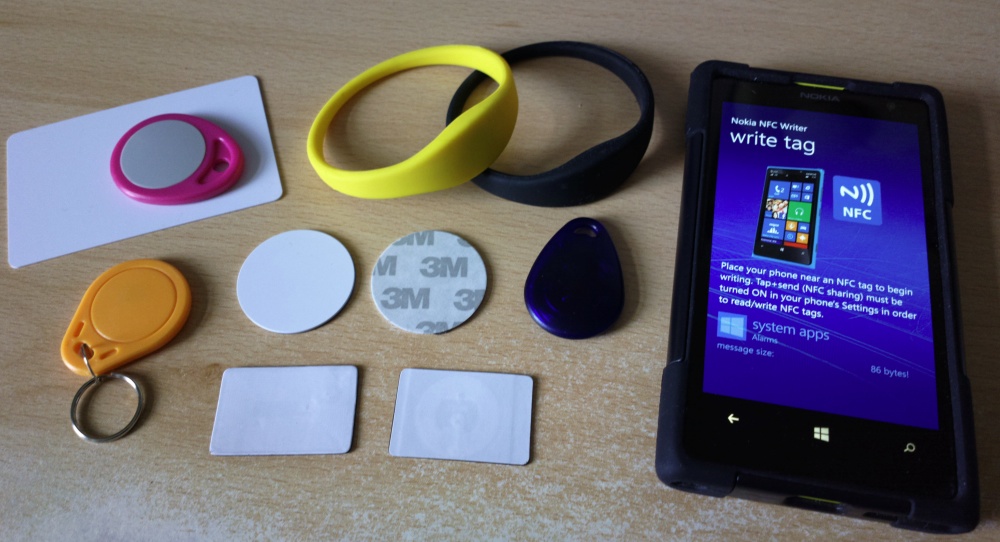 For those folks looking at person-to-person (p2p) transmission methods, NFC has held a lot of potential, especially when you get past the payments processing end of the conversation. NFC – near-field communications – is something that some feature and smartphones have which enables them to transfer, read, and even write data to tags, which can be read by other devices. What is read/written can be as simple as contact information, or as complicated as a means to shutting on/off functionality.
Over at All About Symbian, there's a detailed guide on the subject of writing NFC tags, with some good points about what works and doesn't work from the perspective of Windows Phone devices.
However, one of the lowest-tech and simplest uses for NFC though is in a phone picking up information from a 'tag', usually embedded in a poster/sticker, in a business card or badge. The tag is indicated with a logo or arrow or other instruction and you tap the appropriate bit of your NFC-equipped phone to the tag.

And, as you'll have seen from the idea picking up steam in the Android world from manufacturers like Sony and Samsung, this information doesn't have to be a URL or contact data, it can also be (admittedly platform specific) shortcut to an application or setting. The other really important thing to note is that any NFC-equipped smartphone can not only read from NFC tags, it can also program them, at least it can when equipped with the right application.
Check out this guide, and even look into using NFC tags for various items in personal and organizational use. Just looking at the image attached to this post, it might make sense to do some "swag" which has writable NFC tags built-in that folks can overwrite and explore other usages with. A scenario that comes to mind is the NFC bracelet – have a branded bracelet for the upcoming MMF Consultation, but then a writable NFC tag enclosed that allows participants to either put a link to their presentation materials, contact information, or something else which might be worth the quick connect.
What might you do with NFC tags and their devices? The limits are your imagination.