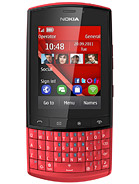 As MMM has pointed out a few times in recent articles, not every mobile situation will merit the latest smartphone, or the most consistent of connectivity speeds, or even a connection at all. In many cases, specifically when the #mobmin (mobile ministry) focus turns missional, the attraction for mobile devices takes on a different component:
Is the device generous with battery life (multiple days)
How many SIM cards can it take
How easy is the device to repair
Is there a memory card slot
Is there Bluetooth
Is there a FM radio
As well as several other factors related to security, cost of device and service, and multimedia abilities. You can go to a website such as GSM Arena and in using their Phone Finder page, choose a manufacturer, and then according to the listing here, begin to filter models down to getting to something that works for you (for example, starting with Nokia and a price of no more than $200 USD, here's the results of a search for available mobiles).
Mobile Advance took at look at a few low-end mobiles (these would be described as feature phones) some weeks back. The devices that were looked at (Nokia X2-02 and Samsung Hero E3213) consider the above points and more – for those persons doing missions work where mobile connectivity is a near-necessity:
My wife and I both needed phones upon getting here.  After  testing out a few in the stores, we decided to get two similar, yet different models- the Nokia X2-02 and theSamsung Hero E3213. Both cost the same- approximately 64 USD. I thought I'd send on our observations upon using both phones, especially since one of them is the update of the XpressMusic [mobile which was a past recommendation]…
Read the rest of  A Comparative Review of Two Mobile Ministry Ready Feature Phones at Mobile Advance
Mobiles like these can be purchased from websites such as Amazon, Expansys, Carphone Warehouse, and Wallmart. Depending on your region, you might also find some smaller local wireless retailers selling these or find listings for some of these mobiles on sites like eBay and Craigslist. Lastly, a good place to find a mission-ready mobile is a pawn shop. Regardless of the place you find these, make sure that you wipe the device completely, then do a full system restore using the accompanying PC/Mac software suite if available.
Once you have gotten the mobile cleaned up, and before you start adding your favorite or needed contacts and apps, take a look at the listing of security and privacy apps listed over at SaferMobile. For many of you in missions, it might not be your mobile that you need protected as much as it is the communications on it, or the lives of those whom you might also let access your device. Take a look at SaferMobile's listings, then pursue wisdom in your missional mobile activities.