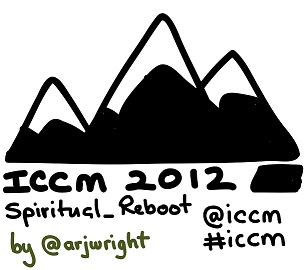 This month, I participated in the International Conference of Computing and Missions (ICCM) USA Conference in Colorado Springs, CO. This was a nearly-week-long conference where those persons involved in IT strategy and support for various missions and BAM groups came together for a time of rest, fellowship, and restarting. The theme of this year's conference was Spiritual Reboot – ironically, this was something that I recommended last year. And indeed, for many of us, the 4 days or so in CO definitely served to rest and reset life in work, family, and ministry.
At ICCM, I presented a few times, and engaged within several conversations about mobile technology and its use within faith-spaces. Some of the most interesting conversations I'm keeping to an offline state, but let's just say that its pretty neat what some folks are asking of the tech and channel that is called mobile.
My primary presentation was about comparing the current leading smartphone platforms (iOS, Android, and Windows Phone), with a bit about HTML5 thrown in there. This presentation is up over at MMM if you want to take a read, comment, or recommend corrections/additions. And to quote something that I mentioned to a few folks at ICCM, I'm not in favor of any current smartphone platforms. I'll continue to take a balanced look at them all, but aside from my iPad, none of them fit me well enough to get a ringing endorsement *all* of the time.
The second presentation was something a bit random (why I didn't prepare this before I don't know) but apparently also had a neat listening audience there. This was about the Mobile Ministry Methodology that I developed and released in the Spring. I talked through each of the phases of the methodology and where it can lead to consistent, reproducible, effective, and traceable projects in tech and ministry. I'm still hearing that there is nothing like this within the digital faith space. So perhaps this project methodology can be something that other types of digital faith efforts can adapt, tweak, and move with.
Both of those were done on the same day… whew.
That same day, along with a few other days, I participated in what was called Birds of a Feather (BOF) sessions. These were more fluid group discussions, proposed and voted on by all attendees, and then someone elects to – or falls into – be the facilitator of the discussion. I was involved in a few of these. The first of which being a session on Mobile Apps for Ministry. I managed to take some (shareable) notes of that one. Other BOFs I participated in included Mobile Options for International Travelers, Alternatives to Skype, and several informal lunch/dinner-time talks.
Speaking of drawings, I did do a sketchnote for ICCM, however, I unintentionally included some information on the sketchnote that shouldn't be public. That's going to have to be one that sits in my private library until I manage to edit things or, or just do another w/o that information. There were pieces of the sketchnote posted to Twitter (see under my handle @mobileminmag or the hashtag #ICCM). That's about all that will be public towards that end of things (sorry).
Tweeted Sketchnotes:
The conference was themed "spiritual reboot" and I can definitely say that it merited that for me. Besides just being tired, before getting to the conference, I had a situation which really could have been a lot worse that what it was. Thankfully, having the presence of mind to pray often and ask for help got me through – but it was mentally and spiritually draining for both me and my lady. Things are going to get better (that particular situation isn't over), but I feel a lot better about leading life with faith instead of fear.
As for expectations, I'm hoping that ICCM leads to several new trips and opportunities. Its already sparked a discussion about availability in a few areas of the USA for projects, an another media interview with an old friend from the UK (will post on that when it goes live), and a spark to get my hands on the Nokia N9 for personal and project reasons. Not sure what else can happen, but having seen some mountains that aren't green (difference between Rockies and Appalachian ranges green and height), I'm just looking forward to whatever is next.
Not done traveling either. Looks like I've got a pretty major one coming soon. I just got to get my paperwork done. ICCM has a Europe and Australia/Asia meeting. Would be worth going to those if you are interested in this space… I know I'm pretty invested in my interest in it.