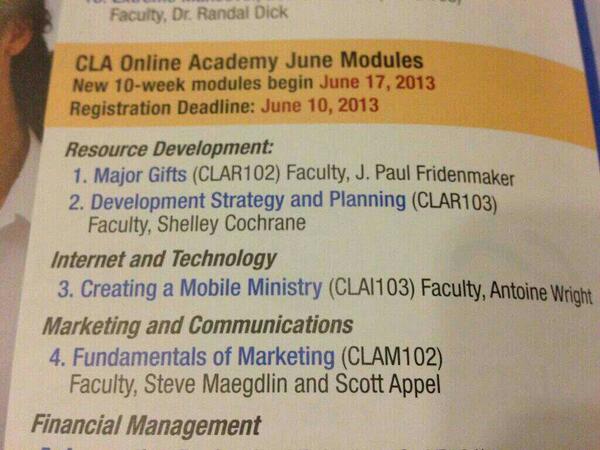 Straight from the folks at the Christian Leadership Alliance, this is something (else) that I've got on deck in the coming weeks:
Do you have a mobile strategy? If you aren't maximizing the use of today's technology, you could be missing one of the key ways to fulfill the kingdom mission God has given to you as a leader. That's why I want to invite you to register to attend the 10-week online class I'll be teaching this Summer in the Christian Leadership Alliance Online Academy. This module, powered by Azusa Pacific Online University, will help you to establish a successful mobile ministry. The best news is that CLA's online classes are designed in a way that works well with your Summer schedule, allowing you the flexibility to coordinate your studies around your schedule. Sign up today to reserve your spot – June 10 is the registration deadline. www.ChristianLeadershipAlliance.org/Online
Registration deadline – June 10
First class – June 17
Creating a Mobile Ministry: Mobile Ministry Introduction and Relevance (CLAI 103)
This module, led by Antoine RJ Wright, Founder/Primary Voice, Mobile Ministry Magazine is designed to provide participants a better understanding of mobile technologies used in ministry. We will explore mobile technologies and behaviors which influence faith practices within Christian and other religious spaces, with the goal of creating a theological and sociological framework for analyzing, discussing, and leading local/global communities in mobile interactions. The participant will have the knowledge and foundational skills to supplement existing ministry activities, or start new ones which utilize mobile technologies, communications, and/or behaviors.
And check out the 12 additional modules CLA offers this Summer in the areas of Board Governance, Financial Management, Executive Leadership, Marketing & Communications, People Management & Care and Resource Development: www.ChristianLeadershipAlliance.org/Online