Bible Bloom is a new Bible app for iPhone (and iPad, but will get to that later) devices. As with many Bible applications, there's the ability to read and keep track of reading. However, Bible Bloom seems to go about things a bit differently. Differently enough to get a look from us. Let's take a look at things and see what's growing in this app.
Impressions
One of the things that you notice with Bible Bloom is that it really is designed to be a pretty-to-engage application. There's not the usual chrome (re: design elements) that look similar to other Bible apps, or even other iOS apps for that matter. The landing page is a series of tiles (Read, Bookmark, Prayer Packs, Store, and Reminders).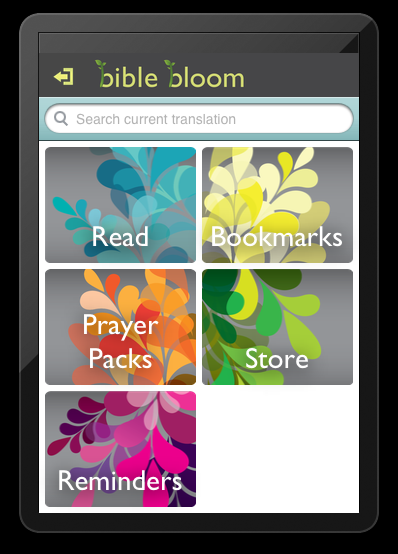 Even though I wanted to skip it, I first went into the Read section to see if there was anything differently done there than with any other Bible apps in the past. Not so much. Moving on.
Bookmarks came across similar. Though, it makes sense that you would eventually use this section if you came into Bible Bloom from another direction. A little more on that later.
Prayer Packs are like these little pocket devotionals that sit inside the app. Really neat idea here, and one that if the folks at Bible Bloom worked with a group (for example The Pocket Testament League, or even had some kind of SDK for local churches to use) would come in handy for Scripture-relevant information.
Store. Nothing more than the means to do in-app purchases of Prayer Packs (and possibly other Bibles in the future???). Still, makes sense to be able to go here rather than need to go back to the app store, or even iBooks/Amazon for this.
Reminders is a notification-based system where you are given encouragement based on the last time that you came into the Bible Bloom app. You can set it up so that your encouragement note comes on after 24hrs, 48hrs, 1 week, 1 month, or a custom time period. You can choose multiple items here just in case you realize that your reading and meditating of Scripture doesn't follow as consistent a patter as you want to.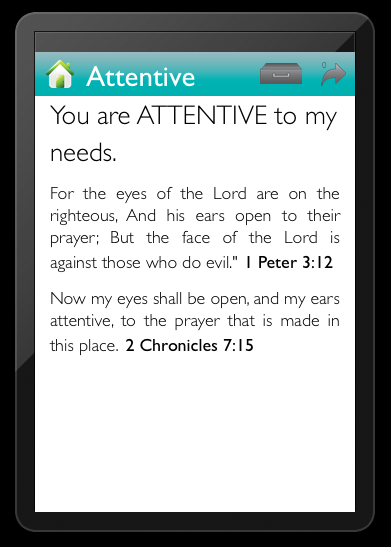 Critique
I wasn't sure of what to think about Bible Bloom. Because of its design, it comes off as just another Bible app. I think though that there is some benefit though to it if Bible Bloom is framed more as a meditation helper. For example, when you get the encouraging note, to be able to tap and see the associated scripture and be encouraged to bookmark it for later or even share it, would make for a very nice workflow. Bible Bloom isn't exactly designed like that. Its something that actually grows out of *not* being in the app everyday, but then having the app remind you and take you through a behavior of thinking on Scripture. Which is kind of how I found that example workflow. From a design perspective, its certainly pleasant, but the prayer packs don't stand out until you get into the app some.
Still, if you are looking for something a bit different than the YouVersion/OliveTree/Logos end of things, Bible Bloom makes for a decent choice. Its a free app, but I would encourage you to support their efforts and purchase a prayer pack or two (they are $0.99USD).
For more information and to download, visit the Bible Bloom website.