Ok, so you have decided that you will take the jump and build a mobile application or website. And in your analysis, you've pretty much established that you already know what kind of content it is that you will serve. So what's left? Well, deciding who exactly to target your mobile efforts towards is one item. Take a look at this graphic recently produced by Asymco which speaks to the published information about global shipments of mobiles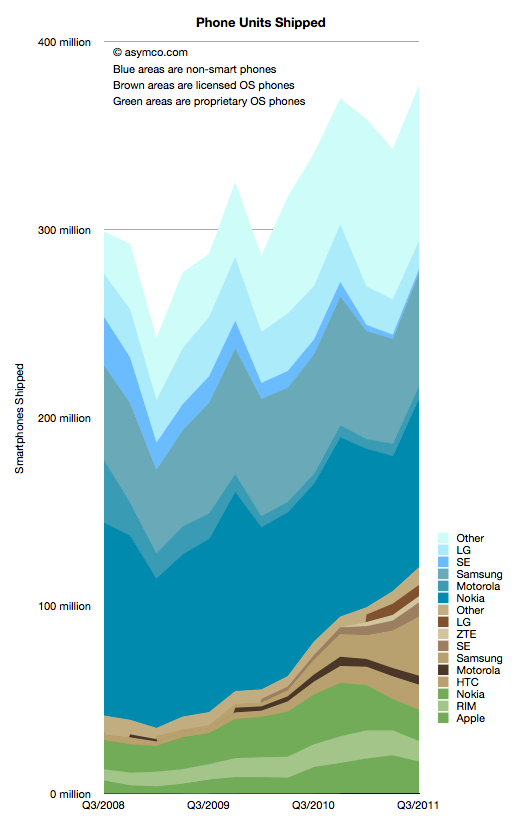 From this graphic (not to mention the data that went into it) we can get an idea of some potential targets for an application or a website on a global scale. For example, we can see from the blue in the graphic that there's a considerably larger percentage of persons who don't use smartphones, though this number seems to be getting smaller on a consistent basis (you won't hear doomsday analysis of the feature phone market here, the numbers bear this as standing strong for the foreseeable mobile futur – i.e., 3yrs easily).
Coming Down from a Global View to A Regional One
Now, this graphic only helps if you are thinking of rolling out something on a mobile global-reaching basis. For many of you, the reach is considerably more regional, and so information like that which Asymco has provided looks best when put against other data, for example, this information from the IDC:
…In Asia/Pacific (excluding Japan) (APeJ), feature phones recovered in the third quarter on the back of Nokia's resolved inventory channel issues in China combined with the strong showing of its dual-SIM handsets across emerging markets like India and Southeast Asia. With Nokia fighting back at the Chinese low-end competitors, the proliferation of these smaller brands has slowed as margins hit razor-thin levels. APeJ smartphone growth last quarter was driven primarily by Samsung and HTC, as well as ZTE in China. In Japan,the market rebounded sharply after two quarters of either low single-digit growth or outright market decline following the natural disasters of this spring.

The Western European phone market declined as a result of lower demand for both feature phones and smartphones. The smartphone device type growth was mainly driven by mid-tier Android devices. High-end smartphone growth was negatively impacted by Apple's fourth-quarter iPhone 4S launch, which caused consumers to delay purchases. Meanwhile, Nokia's transition from the Symbian to the Windows Phone operating system as its primary smartphone platform led to a transition. Feature phones declined as consumers that replaced their devices upgraded to smartphones while others held on to their devices for longer periods of time. Overall the Central Europe, Middle East and Africa (CEMA) markets showed strong growth due in large part to Nokia's rebound in the regions. Bucking its global troubles, Nokia had a very strong 3Q11 due to feature phone growth. Its smartphone decline continued, however, but it remained the market leader in the region. Among the niche smartphone brands, HTC did particularly well in some markets, including Russia. RIM continues to make progress in the Middle East and Africa, but fared less well in Central and Eastern Europe…
Read the entire Q3 2011 IDC Press release
Now, this information from the IDC is a snapshot of what's happening with the entire mobile industry (like Asymco's data), however gives a more detailed snapshot of what's happening in Q3 of this year compared to next year, and also considering regional and manufacturer differences. This is solid information, and allows an effort to craft a mobile website or application to center onto cultural and distribution details that are a bit easier to manage (languages, platform focusing, etc).
Identifying Opportunities, Tools, and Your Users
What's left after this is to look a bit more into what it will take to actually build the mobile application or website. For that information, we have to take a look at a few facts: (a) where are the opportunities, (b) where are the tools, and (c) where are the users.
What are some of the opportunities for faith-based mobile apps, websites, and services?
Games
Funding (not just fundraising)
Group Communication
Education
Health and Wellness
News and Information
Or, what are the categories that see the most application downloads (this information is hard to come by, for example just Apple App Store data here; pulling this together requires some effort)?
Where then can we find some of the tools to take advantage of those opportunities?
Specifically Design for Your Specific User
And finally, we've got to define where the users are for our application. Not the mythical user. Not the "if we put an app out there, it will be used because they have a mobile" user. The hard numbers. Who in your communities, areas of influence, have expressed such interest in a mobile solution from you that it has effected the ability of your current media offerings to grow? Or, how has the success of mobile for your competitors/partners driven your customers and stakeholders to question your mobile strategy?
It is here that you will want to start researching your user base (or prospective user base) towards whatever mobile experience it is that you intend to craft. That doesn't mean that you are designing something to please them (part of the effect of mobile is that you surprise and delight because you offer something people didn't know they wanted), but it does mean that you have a pulse on what they use, what works, what doesn't work, and where potential consumers of your mobile lie.
Analyzing your user base might mean digging into information that you already have (website visitor data, attendance data, response data from polls/surveys, etc.). And it also might mean that you need to generate means to learn more about your community (surveys, focus groups, feedback forms for events, etc.). But, you have to identify exactly who it is that will be using your applicaiton. Try creating personas for these specific users and then (before developing anything) testing the ideas that you have against them. Then, when you get to the point of testing and looking for feedback to your application, you have some benchmark against which to determine where you proceed with your mobile activity.
Of course, you don't have to do this work of figuring out your audience. You could very well be the next Steve Jobs and literally have a intuition towards what will work. You also have to have the discipline to make sure that it does work.
Resources, Encouragement
We have some resources that should help you through this process here. But, as we noted above with looking at your users, much of what you need to know about making a successful mobile applicaiton, website, or service is already within the people you serve. Know them, and you know what works.