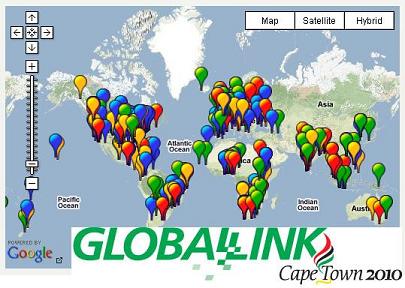 Hopefully, you are aware and have been paying attention to the sessions and active conversations surrounding the 3rd Lausanne Congress on World Evangelism which is going on right now in Cape Town, South Africa. There has been a lot going on, and in just paying attention to #capetown2010 on Twitter, you can get a sense of some of the impact being felt.
Probably the most amazing thing about that small window into Cape Town is that most of the people there aren't on a social network, and most aren't speaking English. There's a ton of information coming out about Lausanne that is a treasure chest if you are proficient in several world languages.
Global Link and Global Sites
Not everyone is able to make a trip to South Africa (beyond political reasons). In the past, this was a major issue. Today, we can use the abilities of text, audio, and video to connect with our brothers and sisters who are there participating, and before they come with personal accounts, we can receive some of the content they too are looking at via Global Link.
We talked about before on how you can connect over Twitter/Facebook, but the Global Link site is an even more effective connection point. You can even take a look at all of the Global Sites around the world which are essentially sponsoring "3rd Congress Snippets" on site. These snippets include audio and/or video, with some breakout sessions. We defintiely encourage you to not just take a look at the site, but connect with your other brothers/sisters in the faith in these sessions.
Charlotte Global Sites
For those who are in the Charlotte area, here's information regarding the Global Site sessions happening in this area:
Westminster Presbyterian Church
(101 Colville Road, Charlotte, 28207)
4-6:30pm
The afternoon is divided into three segments, each lasting about 75 minutes where we will experience, via Globalink, a sampling of the Cape Town Congress.
Carmel Baptist Church
(1145 Pineville-Matthews Rd. Matthews, NC 28105)
4-7pm
The afternoon is divided into segments where we will experience, via Globalink, a sampling of the Cape Town Congress.
As new events in and around Charlotte are added, we'll be sure to let you know (primarily via Twitter). If you are part of the MMM audience outside of the Charlotte area, and are in knowledge of or conducting a Global Link session, send us a Google Calendar invite (mobileministrymagazine at gmail) so that we can note that on our public calendar and assist with any publication of this event meant to keep the Body connected to one another for the glory of our Lord.
For more information about the 3rd Lausanne Congress, connect via their website, Twitter, and Facebook.