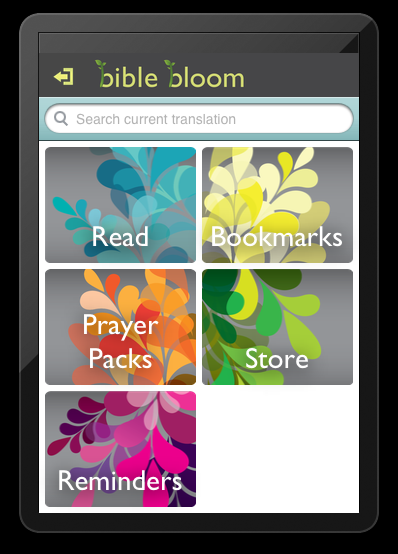 We are very late in getting this up, but given the site issues and just how popular our review of Bible Bloom has been, its about time that we make a note about something new happening with Bible Bloom called the Daily Bible Challenge.
Now, you've been a part of reading plans before, but this one offers a bit more. And combined with the pleasant UI of BIble Bloom's app, could make for a neat reason to use this Bible app versus to others.
Here's more about the Bible Challenge:
The Big Idea
The Bible Bloom Daily Challenge is a journey that will stretch and strengthen your faith in Jesus Christ. The concept is very simple but the impact is profound: each day we'll issue a new challenge to experience Jesus. You can try it, skip it, or share it. Some challenges will be easy and others will stretch you. But every challenge will grow your faith, glorify Jesus, and advance the kingdom of heaven.

What is even more exciting is that Christians all over the world will take the same challenge at the same time. Now imagine the revelation of Jesus that will enter your life through a daily challenge multiplied by tens of thousands of Christians all over the world. Together we will ask for a greater revelation of Jesus, pray against injustices like human trafficking and abortion, bless Israel, and activate our faith through evangelism. There are 365 inspiring, thought provoking, and fun challenges to stretch your faith.
Read more about the Bible Bloom Daily Bible Challenge
Sounds like something worth taking part in? Good stuff. Let's sweeten the deal for you here.
Bible Bloom has given us two promo-codes that we'll give away to anyone who wants to try out the Bible Bloom app. Its only available on Apple's iOS devices (made for the iPhone, but will work on the iPad) so sorry about that end of things. But for those of you looking to try something a bit different, or get a friend or family member to try something different, this is a great idea. If you are interested in the promo code, shoot us a message via Twitter including BibleBloom in a hashtag (for example, "hey @mobileminmag, I'd like to try that #BibleBloom app"). If we get a large number of tweets, we'll choose at random; if not, we'll just go by the responses. Let's say that we give about 3 days to get a response from you all on that.
Until that point, stay tuned to MMM for more bible app reviews, commentary, or other potential giveaways.