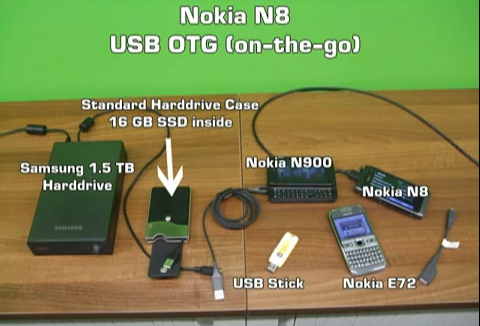 Sometime last week, while browsing Twitter, someone on my timeline remarked about the Nokia Asha 311 having USB On-the-Go functionality. For those who might not be familiar with the term, USB OTG enables a mobile device (like a phone) to be able to connect to USB memory keys, mice, keyboards, and other types of accessories, that are usually more common found connected to laptops and PCs. In the case of the Asha 311, such a feature has a second interesting benefit, two Asha 311 devices can be connected to each other via USB and then files would be transferred between them. Faster than Bluetooth, with some potential huge ramifications for folks that do SD card evangelism (for example, Kiosk Evangelism, Digital Bible Society, and others).
That seems to be a feature for mobiles that's somewhat weird, and not always on the list of reasons why people would purchase a mobile. Still, its one of those features that when you do have it and use it, its pretty easy to see why it makes sense to have. Of course, that got me thinking of other features that mobiles have which might not get all of the greatest recognition, but might end up being useful in some isolated moments:
Many mobiles have the ability to listen to local FM radio stations when you have a wired headset plugged in
A few mobiles have the ability to transmit FM radio signals to other devices
Some mobiles have the ability to play music that's stored on the device, or streamed, through the ear-speaker (not just the loudspeaker)
Some mobiles have the ability to use the LED for the camera as a flashlight/torch
Only two come to mind, but there have been mobile devices with a built-in projector
There was that sneaker company that had a mobile phone with a built-in solar panel for charging
And then there are watch phones – which are more than just a cellular-enabled calculator
What about obscure mobile features that you might have seen? Do any come to mind? Do you use any? Do you wish there was a feature your mobile had that it doesn't?