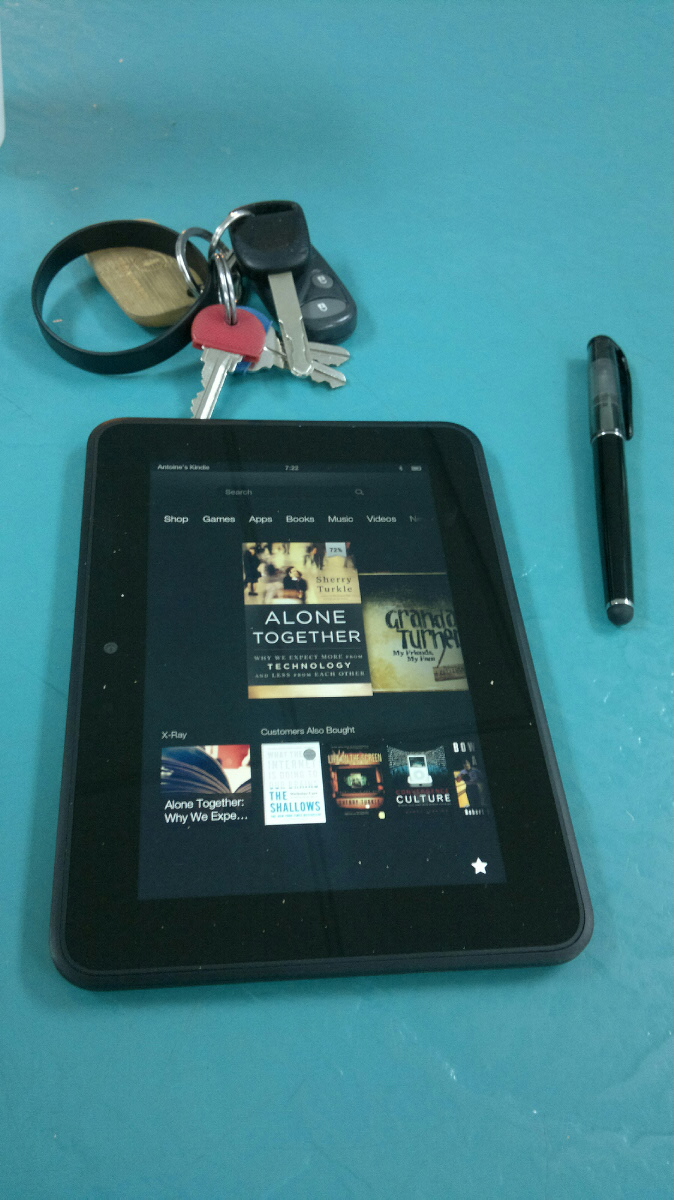 After what has seemed like months drawn out way too long, I have finally finished reading Sherry Turkle's Alone Together. Weird how this book has taken so long for me to read. And at the same time, there was a lot to chew on in between reading sessions. Having the benefit of starting the read on my iPad and finishing on the Kindle Fire HD gave me a chance to compare the screens and ability to read (nearly even, KF-HD I could hold in the hand longer, the iPad was easier to navigate in terms of responsiveness when annotating). Still, I don't think I can give good enough words to this. How about I just let some of the items that I've highlighted or noted speak towards this one:
If the problem is that too much technology has made us busy and anxious, the solution will be another technology that will organize, amuse, and relax us. Read more at location 449
Note: This is the teaching point. Silicon Valley and other creatives seem to be very deliberate in not saying this
Winston Churchill said, "We shape our buildings and then they shape us."23 We make our technologies, and they, in turn, shape us. So, of every technology we must ask, Does it serve our human purposes?—a question that causes us to reconsider what these purposes are. Technologies, in every generation, present opportunities to reflect on our values and direction. Read more at location 609
children's attachments speak not simply to what the robots offer but to what children are missing. Many children in this study seem to lack what they need most: parents who attend to them and a sense of being important. Children imagine sociable machines as substitutes for the people missing in their lives. When the machines fail, it is sometimes a moment to revisit past losses. What we ask of robots shows us what we need. Read more at location 1839
People talk about digital life as the "place for hope," the place where something new will come to them. Read more at location 2988
Note: Honestly, I think this is the statement born from a generation that saw media as separate from interpersonal interactions. I don't know that this idea of hope for a place is all that different from hope in a memory that performances, altars, and institutions aim to provide, or psychologically become
When online life becomes your game, there are new complications. If lonely, you can find continual connection. But this may leave you more isolated, without real people around you. So you may return to the Internet for another hit of what feels like connection. Again, the Shakespeare paraphrase comes to mind: we are "consumed with that which we were nourished by." Read more at location 4353
a sixteen-year-old girl who tells me, "Technology is bad because people are not as strong as its pull." Read more at location 4366
We have to love our technology enough to describe it accurately. And we have to love ourselves enough to confront technology's true effects on us. These amended narratives are a kind of realtechnik. The realtechnik of connectivity culture is about possibilities and fulfillment, but it also about the problems and dislocations of the tethered self. Technology helps us manage life stresses but generates anxieties of its own. The two are often closely linked. Read more at location 4647
A sacred space is not a place to hide out. It is a place where we recognize ourselves and our commitments. Read more at location 5312
Those are only a few. You can check out the rest of my public notes and highlights over at the Amazon Kindle page for Alone Together. In terms of a recommendation, let's just say that ministry leaders should have read this already if they haven't; and parents with teens or young adult children need to read this with them and listen to one another in the responses.
Off to put these highlights and notes into my notebook. You never know when access might be taken away on these services.